At NewHold, we build companies around operating platforms. A platform is a standalone company built around a management team with a vision for how best to drive growth through a combination of continued organic success as well as accretive strategic acquisitions. In particular, we focus on fragmented sectors consisting of middle market industrial and services companies where consolidation has real benefit to customers, cost structure and employee development and growth. Not all fragmented sectors should be consolidated. Not all consolidations lead to opportunities for organic growth. NewHold focuses on those unique opportunities where the right team can be brought in at the right time in a sector where the consolidation is of real benefit. Central to our model is the belief that a long-term horizon is key to a successful consolidation.
NewHold Operating Model
We are focused on cash-flow preservation, risk reduction and long-term growth. It is developed in conjunction with, and empowered by, an Operating Advisory Board and series of partnerships with deep functional expertise.
(Hover over graphic for more details.)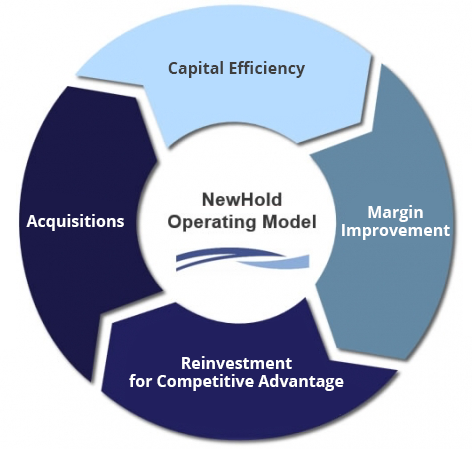 Capital Efficiency
Working capital management
Lean manufacturing
Fixed asset review
Margin Improvement
Supplier review
Six sigma quality management
Zero base budgeting for G&A
SKU/customer profitability and analysis
Reinvestment for Competitive Advantage
Quality control
Workforce training
Product development/marketing
Acquisitions
Invest/reinvest for organic scale, scope and through M&A
Acquisition criteria prioritizes margins and cash flow