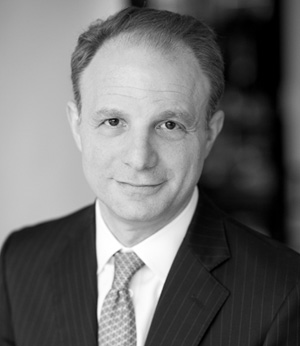 Charles
Goldman
Co-Chairman
Charles Goldman is Co-Chairman and Co-Founder of NewHold Enterprises. He has spent more than twenty years in private equity. Prior to NewHold Enterprises, Charles worked at Mill Road Capital, where he was a founding partner, and at JPMorgan Partners (including Chase Capital Partners).

Charles' private equity career includes extensive experience in deal sourcing, structuring, debt-financing, and portfolio company management. He has led transactions including buyouts of public and private companies, growth equity, structured investments and investments in public companies. In addition to his deal sourcing and structuring responsibilities Charles has extensive experience serving as a board member and working in partnership with management. In conjunction with company leaders he has helped to develop, refine and implement initiatives that enhance both near-term performance and long-term competitive position. Charles has worked with companies in industries including aerospace, automotive, business services, retail and telecommunications.

Charles is the Chair of Tedia (the largest manufacturer of OEM high-purity solvents in North America) and NewHold AEC Corp. (a diversified multi-discipline engineering and architecture firm serving the nation's infrastructure needs related to transportation and water resources). He also serves on the board of American AllWaste, which specializes in non-hazardous liquid waste transportation and disposal. In addition, Charles is the Vice Chair of NewHold Investment Corp II (NASDAQ: NHIC), a Special Purpose Acquisition Company focused on industrial technology.

In addition to his work at Mill Road and JPMorgan Partners, Charles worked at Ascend Media where he was an Executive Vice President and at Dillon Read where he was an investment banking analyst. Charles received a Bachelor of Art, and a Bachelor of Sciences Magna Cum Laude from the College of Arts and Sciences and the Wharton School of the University of Pennsylvania. Charles also received an MBA from the Harvard Business School.